Lewis Rice Wins Award for Website Redesign
April 15, 2016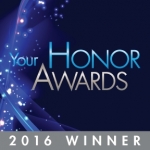 Lewis Rice is pleased to announce that the Firm's website redesign won second place in the largest Total Website Refresh/Overhaul/Rebrand category at the 2016 Legal Marketing Association (LMA) Your Honor Awards, during the LMA Annual Conference April 11-13 in Austin, TX. The website redesign was led by web designer and developer Great Jakes Marketing Company.
Key elements of the award-winning website redesign include client profiles, highlighting the close, collaborative relationships our firm develops with our clients; edge-to-edge photography, featuring photos at client locations and local points of interest to engage potential clients located both near and far; and attorney, practice area and industry "microsites," which are customized to the specific business development needs of each attorney and area of focus.
The LMA Your Honor Awards program is the longest-running annual international award program recognizing excellence in legal marketing. To learn more about the LMA and the Your Honor Awards program, visit their website here.