Testimonials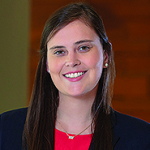 One of the things about Lewis Rice that stood out to me while interviewing was the passion each lawyer had for his or her area of practice. As a summer associate, I got to witness and experience that passion and dedication first hand. I worked on assignments in a wide variety of areas, including some substantive work in the Corporate Department, which is where I practice today. Now as a practicing attorney at Lewis Rice, I can look back and see how valuable it was to work with those dedicated attorneys early on in my career and how it helped shape the way I approach my own practice.
What surprised me about my summer experience at Lewis Rice was how closely it represented the work I'm now doing as a young associate in the Litigation Department. As a practicing attorney, I can fully appreciate how valuable my one summer was at Lewis Rice. From day one of the program, I was doing real, substantive work. Lewis Rice attorneys were eager to involve me in their practice, and gave me the type of assignments they give to first-year associates. I never felt like I was working on a project that was made up just for the purpose of keeping me busy. I was contributing in a valuable way, while learning from a team of talented lawyers. I also felt like I had a high level of support from the attorneys with whom I worked. Lewis Rice has an "open door" culture where I always felt like I could simply go to the assigning attorney with questions. And because of the rotation structure of the program, I was able to get a real sense of what it would be like to work in each department, where I ultimately decided litigation was my best fit. I'm so thankful for my summer at Lewis Rice while in law school—I felt 100% confident in my decision to accept their full-time associate offer and was able to "hit the ground running" when I started.
As a summer associate, I quickly discovered that there is a real investment from the Firm in recruiting and mentoring young lawyers. There is so much enthusiasm around the Summer Associate Program. All the attorneys I interacted with took a genuine interest in both my personal and professional life. From the first-year associates to the managing partners, everyone was happy to spend time with me to talk about their practices, share their stories or simply grab lunch. I also appreciated the thoughtfully organized program—they have a smooth process for assigning and evaluating work and rotating through the Firm's departments. We also had plenty of opportunity throughout the 10 weeks to better get to know the Firm's attorneys at a number of fun social events. Now as a young associate at the Firm I'm able to build upon those great relationships that began as a summer associate. That level of commitment to fostering young lawyers is what made Lewis Rice such an easy choice for me.