Lewis Rice Recognized as Top M&A Firm by BTI Consulting Group
August 11, 2021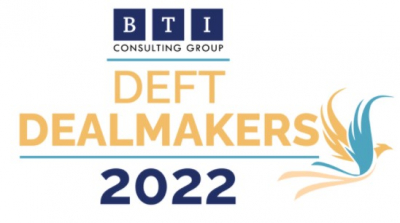 Lewis Rice was recently named one of the 32 law firms in the country most trusted by clients for merger and acquisition (M&A) transactions in BTI's Law Firms Who Can Get Any Deal Done.
BTI conducted interviews with legal decision-makers at large corporations to compile this list of firms that "get it done no matter what." Lewis Rice was recognized as a "Deft Dealmaker" which is characterized as bringing a rare sense of deal savvy, determination, and boundless energy to get the deal done.
"We're experienced deal lawyers who work hand-in-hand with our clients to achieve the best outcome, efficiently" said John J. Riffle, Chairman of the Corporate Department at Lewis Rice. "We understand the urgency of the most competitive transactions and are staffed to provide service to our clients around the clock, enabling them to seize time-critical opportunities. We are proud to be recognized for our client-centric approach and be included on this important list."
Lewis Rice's M&A attorneys provide counsel in all forms of transactions, from middle market private company transactions to multibillion-dollar public deals, and represent buyers and sellers in many industries, including manufacturers, distributors, retailers, healthcare organizations, financial institutions and more. Click here to learn more our M&A practice.
BTI Consulting Group is a provider of strategic market research to law firms and professional services firms. The company conducts private benchmarking, market awareness and client satisfaction research for organizations worldwide.
Resources