Michael D. Mulligan, Mysun Charitable Foundation Recognized at Greensfelder Park Ribbon Cutting Ceremony
June 24, 2021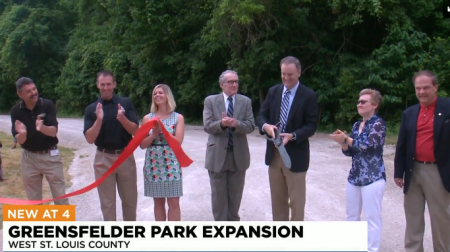 On Thursday, June 24, 2021, the St. Louis County Parks Department along with the County Executive, Sam Page, and representatives from the Mysun Charitable Foundation, among others, cut the ribbon to officially open the 155 acre expansion of Greensfelder Park. Lewis Rice member Michael D. Mulligan attended the ribbon cutting ceremony as a Trustee of the Mysun Charitable Foundation, which was established by the late Myron and Sunny Glassberg. The Foundation contributed significant funds towards the purchase of the land added to Greensfelder Park. Mike noted in his remarks that Greensfelder Park has an important family connection to Myron and Sunny Glassberg—Albert Greensfelder, for whom the park is named, was Myron's uncle.
To read more about the ribbon cutting ceremony, click under "Resources" below.
Mike is a principal originator of the estate planning strategy of sale to defective trust for an installment note, which is now widely used by estate planners nationally. He has been elected to the Estate Planning Hall of Fame® and has been awarded the Accredited Estate Planner® (Distinguished) designation by the National Association of Estate Planners & Councils.
Resources