Lewis Rice Announces Winners of First Larry L. Deskins Scholarship
August 22, 2022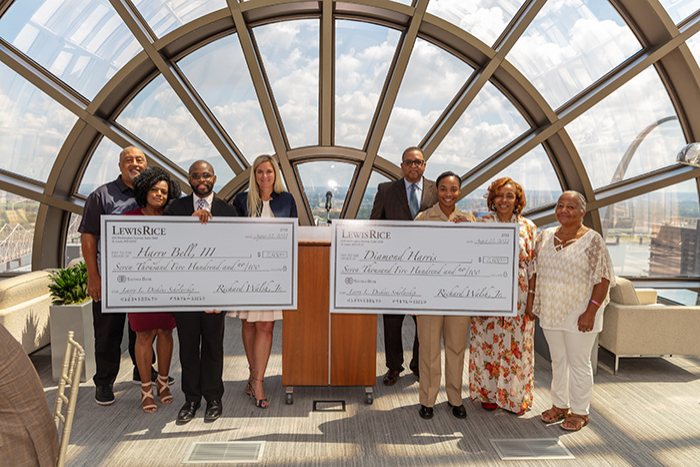 From left: Michael Cribbs, Yvonne Bell-Cribbs, Harry Bell, III, Sarah Mullen, Ron Norwood, Diamond Harris, Tanya Harris, Sarah Thomas
Lewis Rice has named Harry Bell III, a first-year law student at University of Missouri School of Law, and Diamond Harris, a first-year law student at Saint Louis University School of Law, as the first recipients of the Larry L. Deskins Scholarship.
The scholarship, which honors Lewis Rice's late partner Larry L. Deskins, awards $7,500 scholarships to two first-year law students at Washington University, Saint Louis University or University of Missouri law schools who are members of economically disadvantaged or underrepresented groups in the legal profession. Scholarship funds were awarded to Harry and Diamond this summer and will be used for tuition and expenses during their second year of law school.
Harry has a master's degree in public administration with an emphasis in local government from Northern Illinois University in Dekalb, Illinois. He is involved in the Black Law Student Association and Health Law Association at University of Missouri School of Law.
"The Larry L. Deskins Scholarship will assist me in obtaining a legal education, which in turn will provide me with the skills necessary to connect important theoretical concepts to real world scenarios that I will face in my day-to-day work as a practicing attorney," Harry said.
Diamond obtained her master's degree in criminal justice from Saint Leo University in St. Leo, Florida, and an associate degree in paralegal studies from Roger Williams University in Providence, Rhode Island. At Saint Louis University School of Law, she is a board member of the Honor Council and a member of the Black Student Association and the Women Law Student Association.
"Black female lawyers are one of the highly underrepresented minority groups in the legal field," Diamond said. "I believe that with my experience and determination I will be able to forge a way for economically challenged black women and any other underrepresented community that is interested in the legal field."
Harry and Diamond were honored during an award ceremony on August 22, 2022 at Lewis Rice's downtown office and will be featured on Lewis Rice's website, social media, and other publications. The Larry L. Deskins Scholarship is part of Lewis Rice's "Next Level" Diversity and Inclusion Programs created to proactively promote diversity, equity and inclusion in the legal industry.