David W. Gearhart and Lindsey M. Bruno Continue the Fight for Family in International Adoption Case
May 20, 2022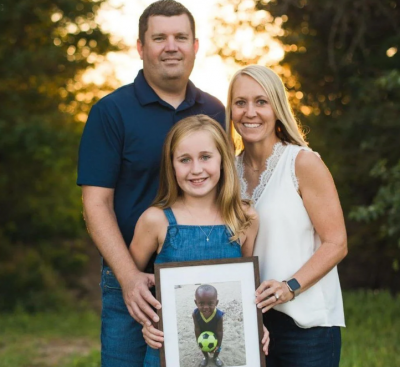 The Trower family: Adam, left, Jill, right, Nora, and Luke, in picture frame. Photo by Becky Orf/Orf Photography. Used with permission.
Lewis Rice attorneys David W. Gearhart and Lindsey M. Bruno represent the Trower family in the adoption of their son from the Democratic Republic of Congo ("DRC"). In the nearly four years since the Trowers embarked on this journey after meeting their son who was found abandoned in the DRC, they have faced several heartbreaking setbacks from the U.S. governmental agencies which touch on immigration, including what has been characterized in court filings as unreasonable delays, failing to perform their governmental investigatory duties into the child's origins, and even hiding and misrepresenting evidence.
The adoption was approved by a court in the DRC in May 2019, and the Trowers were specifically told by the U.S. government that they then could proceed with their adoption in the DRC. However, after more than two years, the U.S. denied their application for what the Trowers feel are specious reasons relating to DRC laws and the U.S. government questioning whether the child was abandoned at the outset, despite the U.S. government's own failures. David and Lindsey filed a lawsuit challenging the denial in federal court, and continue to work on behalf of the Trowers to make sure they are united with their son. The case can be followed at: Trower et al. v. Blinken et al., Case No. 4:22-cv-00077-JAR (E.D. Mo.)
To read more about the case, click under "Resources" below linking to various recent articles and TV segments in the press. Click the "St. Louis Public Radio" link to listen to a segment featuring the Trowers and David.
As the lead attorney of the Firm's Immigration Practice Group, David specializes in counseling businesses and individuals with respect to immigration-related matters including temporary/permanent work visas; permanent residence based on family relationships; citizenship; J-1 visa waivers; securing student and visitor visas, maintenance of status issues, and U.S. entry issues.
Lindsey is an associate in the Litigation Department of Lewis Rice. She represents individuals and companies in a broad range of disputes, including complex commercial litigation and immigration matters. Lindsey also counsels employers and management in personnel-related matters and discrimination lawsuits.
Resources