David A. Weder Hosts Annual Joint Meeting of Madison County Bar Association and St. Clair County Bar Association
March 22, 2018
Lewis Rice member and President-Elect of the Madison County Bar Association David A. Weder hosted the annual joint meeting of the Madison County and St. Clair County Bar Associations on March 22, 2018 in Collinsville, IL. More than 150 attorneys were in attendance, including the Illinois State Bar Association's Officers and Board of Governors, and the Hon. Lloyd A. Karmeier, Illinois Supreme Court Chief Justice.
David practices in the Litigation Department, though a significant portion of his time is devoted to assisting clients with corporate and transactional issues. His general practice includes premises and products liability, toxic tort litigation, intellectual property licensing, e-commerce, and other transactional and general civil litigation matters.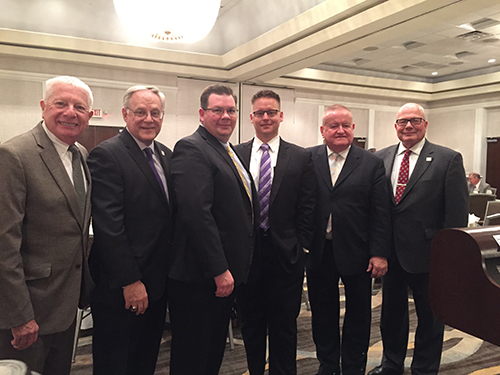 Pictured from left to right: ISBA 2nd Vice President David Sosin, ISBA 3rd Vice President Dennis Orsey, St. Clair County Bar Association President David Schneidewind, Madison County Bar Association President-Elect David Weder, ISBA President Hon. Russell W. Hartigan (ret.), and ISBA President-Elect James F. McCluskey.