Laclede's Landing's Reinvigoration through Lobbying and Real Estate Work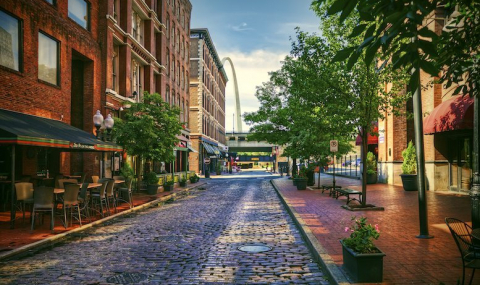 Lewis Rice member David W. Sweeney and associate Melissa G. Powers are helping to reinvigorate the City of St. Louis' Laclede's Landing, adjacent to the Arch Grounds, with lobbying and real estate work for client New Legacy Development Partnership. Dave and Melissa assisted in the redevelopment by applying for and obtaining real estate tax incentives and by providing unparalleled lobbying services. Additionally, the two attorneys assisted with navigating local government, including interacting with city employees and elected officials. Finally, Dave and Melissa provided guidance on certain loan and refinancing matters.
Many of the Landing's bars and restaurants closed due to years of renovations at the Gateway Arch National Park, but the reopening of the Park brings hopes of increased tourism, traffic, and activity on the Landing. Since September, the Partnership has purchased five buildings, closing on three of the deals just in December. Moreover, it has several other buildings under contract and hopes to close on those purchases soon.
To read more about the projects that New Legacy Development Partnership has taken on, click under "Resources" below.
Resources