Lewis Rice Upholds Missouri Franchise Act in Alcohol Distribution Case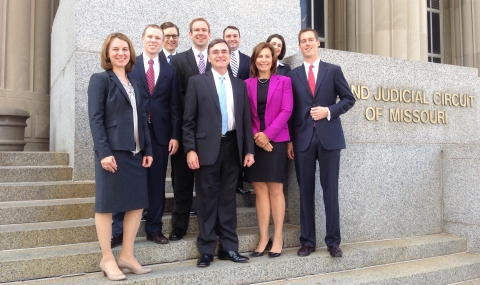 The Case
Lewis Rice represented Major Brands, a multi-generation Missouri family-owned wine, spirits, and beer distributor, in a suit against Diageo, the world's largest liquor supplier, which arose after Diageo terminated its decades-long relationship with Major Brands and moved approximately $100 million in business to a much larger multi-state distributor that was also Major Brands' chief competitor, Texas-based Glazer's. The litigation centered on the interpretation and applicability of the Missouri Franchise Act, which prohibits the termination of liquor distribution relationships, unless the supplier can first establish statutorily defined good cause.
The Stakes
For Major Brands, the stakes could hardly have been higher. In a 24-hour period, Major Brands received notices of termination from Diageo and other suppliers, which would mean that Major Brands stood to lose close to half of its revenue in the coming months. The liquor distribution industry likewise had much riding on this case. Missouri is one of approximately 17 states with liquor franchise laws, which are generally disfavored by large suppliers. This case was viewed by those in the industry as a testing ground for suppliers' future challenges to franchise laws through distributor terminations.
The Lewis Rice Team
The trial team from Lewis Rice was led by Richard B. Walsh, Jr., Chairman of the Litigation Department. His creative, out-of-the-box approach was critical to achieving the mid-trial settlement and assisting the client with navigating the business and regulatory challenges posed by this case. Rick Walsh assembled a small trial team of experienced Lewis Rice members and associates, giving each core team member significant responsibility and a level of autonomy that allowed the team to effectively pursue an aggressive discovery and trial strategy. In addition to Rick, the core team included Evan Z. Reid, Bridget G. Hoy, Oliver H. Thomas, R. Taylor Matthews, III, Derick C. Albers, Sarah A. Milunski, and Edward T. Pivin. About his team, Rick said: "The depth of talent that we have at Lewis Rice, at all levels, allows us to staff cases leaner, know the facts better, and adjust quicker. Those advantages become particularly apparent in cases like this, where there is a large volume of documents, witnesses, and briefing, accompanied by an aggressive schedule that creates extreme time pressure."
The Resolution
In the second week of trial, Major Brands reached a confidential settlement with Diageo and Glazer's. In announcing the settlement, the following statements were issued:
"The parties in the Missouri trial of Major Brands against Diageo and Glazer's have settled the case for a substantial payment made to Major Brands. Diageo issued the following statement: Diageo is pleased to amicably resolve this regrettable dispute. Diageo continues to distribute our beer and Smirnoff Ice lines with Major Brands, recognizing it as a well-run, family-owned business, which in the words of the late Todd Epsten, 'uses its business to build the community.' We look forward to growing that business in Missouri with Major Brands. Major Brands is thankful to the Judge, the Missouri judicial system, and the St. Louis citizens who sat on the Jury, and appreciates Diageo's kind words about Todd. The company is happy to put this matter in the rear-view mirror and remains committed to providing our retailers and suppliers with outstanding service and performance."